Patios are a great way to create clean, usable outdoor spaces. Patios are a good idea for setting tables, chairs, grills, etc. on. Patios can be an entertaining area for family and friends. Hot tubes, outdoor bars, fire pits, or water-features are all perfect reasons to consider a patio.
Patios can be built with pavers or natural stone products. The advantage of a patio…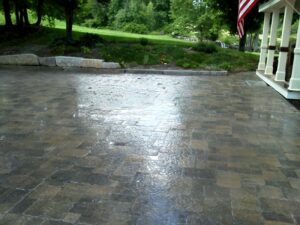 Less Maintenance Than a Deck

Quickly Cleaned and Always Looks Good
Pavers can be cleaned and sealed to enhance color, texture, and protect pavers. Natural stone is forever and requires little to zero attention.
Paver driveways are also a great option for a property owner who wants to enhance all aspects of outside the home. Paver driveways can be the perfect compliment to well-kept landscapes.
A Paver Driveway is visually superior to asphalt. Pavers do not heave or crack. Colors are unlimited and design elements are can allow you to really use your "imagination."
Solid foundation and preparation is key! Grading is done with laser transits and quality products with quality installation. A perfect addition to a Paver Patio is Natural stone wall.

Keim Landscape Consulting can Help You Build The Perfect Patio and Paver Driveway!
Click the images below to see samples of our work.