Stonewalls and Retaining Walls for Both, "Art & Function"
Stonewalls can serve as "function" or they can also be a gorgeous feature of your outdoor living space.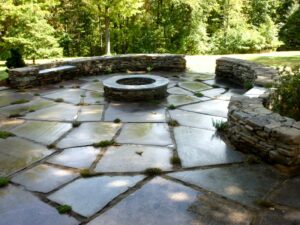 "Retaining Walls" retain materials to transition grades, terrace an outdoor living space to maximize the property. Walls can be "freestanding" having two complete sides and a finished top. These are used for design elements or to create a courtyard effect, driveway entrance or entrance to a home. Walls can be capped with granite , blue-stone or other flat materials. Keim Landscape Consulting can help you decide.
Our clients rely on us to build and construct Stonewalls for function and visual purposes. Folks enjoy the look, quality, and craftsmanship . Whether they are curved, straight, rustic or more formal – Properly built Retaining Walls elevate the value of your property and convey attention to detail and status.
Retaining Walls can help terrace off UN-level ground to maximize outdoor living spaces or planting areas.
A strong foundation is key! A poor foundation will cause even the most well-built Retaining Wall to fail.
Keim Landscape Consulting will begin your Stonewall construction by excavating organic material, adding base material and compact.. Retaining walls require tons of material behind the walls face to help retain the pressure of the earth behind it. Freestanding walls require foundation as well and need proper "hearting" in the center of wall.
Put our 30+ Years of Experience to Work For You!
The options to create an amazing stonewall of one that simply serves a function are endless. Let's talk and find out what works for you.
You might also want to see some of Stone Veneer work too.  
Click the images below to see samples of our work.