Water Features For Elegance & Style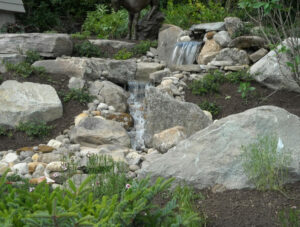 Water Features within your landscape can be as simple as a fountain to complex waterfalls and stream beds with falls to a pond. Water features are a great place to relax near. The sound and visual enjoyment they give back is amazing. Water Features attract many different birds and animals. Water Features are the ultimate addition to a well-designed outdoor space.
No two water features are the same. Materials, site conditions, and the creativity + experience of Keim Landscape Consulting make each clients Water Feature unique.
Water Features do require some maintenance so you should be prepared for upkeep to maximize your investment. Ponds do require the most maintenance and attention.
Fountains and pond-less water falls are low maintenance and do not require much attention, just sit back and enjoy.
The best part is Keim Landscape Consulting can create a Water Feature that fits your unique situation.
Click the images below to see samples of our work.