Plantings in the landscape are the finishing touches to complement the hardscapes and the home. Keim Landscape Consulting offers plant installation to existing landscapes.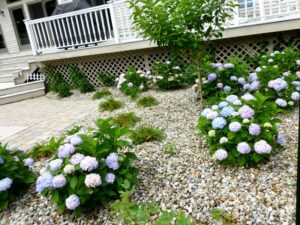 Plantings require design and plant schedules. It is our goal to provide clients with color and textures throughout the growing season. Keim Landscape Consulting has extensive experience in planting. It is critical to plant material to be installed in proper area on property based on sun/shade , wind, summer and winter conditions. Trust us to ensure the right placement.
Plants require proper bed preparation. Keim Landscape Consulting will amend the planting areas with organic compost and organic fertilizers. Mulching the beds is the key to hold moisture and prevent weeds from competing with plants.
Most importantly is that the plants will require watering 1 to 2 times a day until they become established. In larger planting projects we highly recommend an irrigation system.
Be sure to check out some of our Water Features work too as that is an amazing way to enhance your property.  
Click the images below to see samples of our work.