Installation of New Outdoor Walkways
Because of Keim Landscape Consulting's Strict Quality Standards we only install new walkways!Repairs and rebuilds leave us subject to unknowns in prep, installation and quality of materials. We're just not sure how the previous installer did things!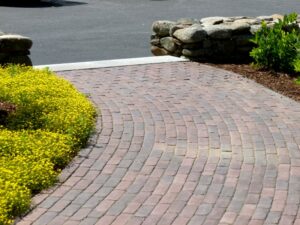 Walkways are installed with same standards as patios and driveways. The foundation is the key. Walkways can be many different materials from pavers, bluestone, step stones, granite and permeable pavers.
Permeable pavers are becoming common place around water front properties and being required by state and local agencies. Waterfront property will require permitting which Keim Landscape Consulting can help with. We can use our experience to guide you. Permeable pavers minimize water runoff. Installation is different than standard walkway and patio installation. Base is installed using washed stone graduated up in size as you build up base.
Our approach to walkways is to do a site visit and determine the scale and complexity of the project. At that time we can tell the you if we need to move to a design process or if the project can be executed right away.
Walkways may need granite or bluestone steps to be incorporated into them. Walls can terrace the property. Grades and measurements are made to determine materials needed to complete the project. In most cases it is important to invest in a design even if it is just conceptual. The design is worth it to ensure accurate pricing for the project and a visual experience to see it before we create it.
Click the images below to see samples of our work.